1973 Kawasaki Mach III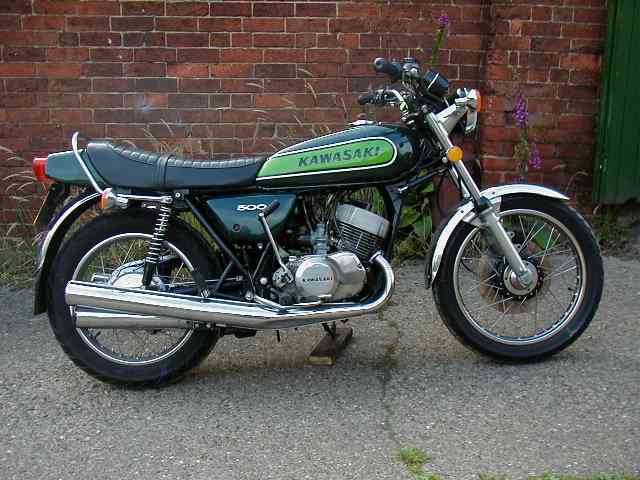 After college graduation in May 1973, I started my teaching career. In the spring of the first year, with my old buddies still riding motorcycles, I decided I had to get back into it. I picked up a used Kawasaki Mach III. It's funny what happens to your mind over the years. I really couldn't remember the year of this bike, but I thought it was a 1972. After some Internet research, I discovered that the style of the tank graphics and the "Green Meanie" color were introduced in 1973.
The bike pictured here is not mine, but it is exactly like it. Any pictures I once had didn't survive. My memories of this bike are fond. I was a 22 year old terrorizing the streets! For the era, this was a good sized machine. The two-stroke, three cylinder configuration was classic. It was a screamer. From point A to B, it was lethal. At highway speeds, you could hardly hold on to it because of the vibration. My biggest problem with it was that, with the torque of the two-stroke motor, I was easily out in front of my friends, but none of them would let me lead because I would smoke them out. At full-throttle, the smoke pouring out of the three exhaust pipes would choke you if you were behind it.
According to the Kawasaki Motors Corporation web site, "In 1969, the incredible Mach III 500cc two-stroke triple launched Kawasaki's performance image around the world. By the time of the legendary four cylinder 900cc Z1 in 1973, Kawasaki was a major power in the motorcycle industry".