We now live on the eastern end of Lake Ontario, on the North Shore Road of Pillar Point (Jefferson County Route 59). This is in the town of Brownville, just west of Watertown, New York. This property has a special meaning for both of us. In the Schryver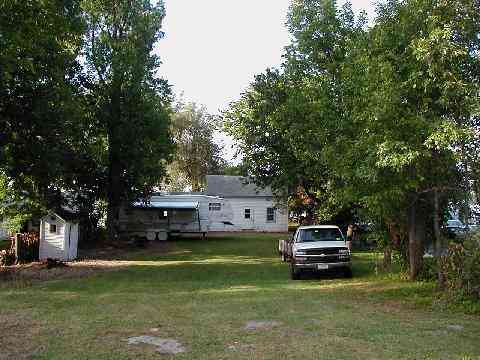 family since 1939, it came to be known as "the cottage". David's aunt originally purchased the land and his grandfather built the house/cabin there. Over the years, his father did many renovations on it. As a kid, David spent many summers down there. When we were first married, David worked several summers as a disk jockey at WNCQ, a country radio station in Watertown that was then known as "Big Q Country". We basically lived there during those summers. Since those were the years we were starting a family, our kids spent some of their early years there as well.
We closed on the property on August 24, 2004, so the only work we were able to do that year was clearing of brush and unwanted trees. We used our 5th wheel camper as our "summer home" while doing renovations during 2004-2006. We have a before and after page which shows a number of photos of how the property looked when we first bought it and how it looks now.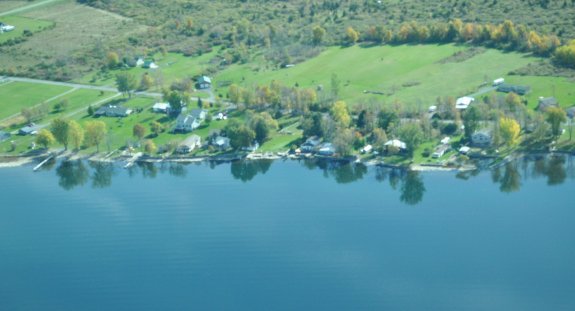 This aerial photo was provided by our friend Dave Little of Watertown who went airborne on a picture taking mission of the shores of Lake Ontario and the St. Lawrence River. There are two clusters of trees at the shore, one just right and one just left of dead-center. We are just left of that left cluster of trees.
During the summer of 2005, we had an opportunity to remove some more trees. It's not that we wanted to, but on August 1, a tremendous storm went through and did some damage. You can see that here. It didn't last long, but winds of 75-85 MPH did a number on the neighborhood!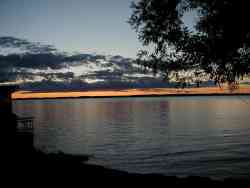 Over a four month period during the fall of 2005, four contractors did several projects. 2005 construction photos can be seen here. One of the saddest moments of the process occurred on Labor Day. Our neighbor Dan O'Connor and some friends hauled away our old outhouse! They are using it as a storage shed for tools at their garden. The good news is that it is only a few hundred yards away. We can see it whenever we like!
The summer of 2006 was very busy. The noticeable differences on the outside include two new doors and two windows as well as a couple of small decks so that we don't have to climb ladders to get inside! In addition, the house got a new coat of paint. For the first time in 66 years, the building is now gray rather than white. Inside, we completely gutted it and installed a new kitchen, with all new appliances, plumbing and wiring and a new bathroom including a washing machine and dryer. 2006 construction photos are here.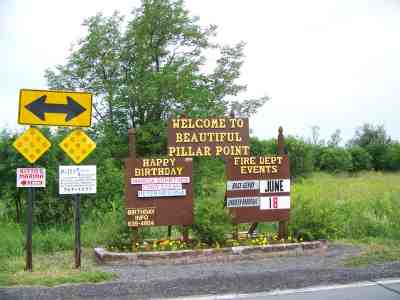 After David's aunt Mary died in January 2007, we obtained some old family photos. In them were a number of pictures that were taken at the cottage many years ago. These can be seen here.
2007 was a very productive year. On Friday, June 8, David and his college roommate Rich from Long Island started work on a new deck on the lakeside. They installed the ledger boards on the house and set the two 6"x6" posts for the carrier beam. The project resumed on Sunday the tenth. Aaron, Davy and Don Thompson all played a part in this and by Tuesday morning, we had a 526 square foot deck completed except for the railings. By Wednesday afternoon, two French doors were installed. David worked on and off for the next couple of weeks finishing the railings. A couple of weeks later, Marcia, Lowell, Aaron and Miranda landscaped several sections of the yard, including the section in the picture at the left that we call the rock garden. This section was put in so that no one would drive on our raised bed septic system behind it. The huge rock in it was moved into place by our neighbor Dan O'Connor with his tractor. It had been at the base of some birch trees that had been between the cottage and the old outhouse. They were all displaced for the septic system.
During May of 2008, we finished insulating and hanging drywall in the downstairs bedroom. Although this house renovation thing is a lot of work, it is also a lot of fun. However, there are certain things that aren't so much fun so we finally smartened up and hired some things done. Between June 7 and 13, two sheetrock finishers came down and plastered the bedroom. Shortly after we had the wood floors refinished. Then we painted the room and moved in. That freed up the living/dining room and we did the same there. Contractors finished the drywall and refinished the floor in August and September. We now are finished with the downstairs except for some moldings, casings and baseboards. All of our 2008 work was inside.
Early in the morning of September 15, 2008, the area was hit with another storm. Details of that can be seen here.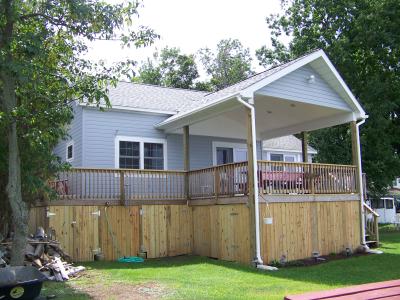 2009 saw a some interior work and a lot of exterior work. We finished a majority of the molding and trim downstairs, but the bulk of our efforts were outside. The house got a new coat of paint, and we enclosed the entire underside of the deck. A contractor was hired to put a roof over the larger part of the lakeside deck. We also brought in some topsoil to finish the lawn behind the retaining walls on the shore and did quite a bit of landscaping.
2010 saw a major amount of work done upstairs, including framing, four new windows, sheetrock work and painting, as well as some downstairs finishing and some minor landscaping.
We had a number of plans for 2011 which basically would finish up the majority of the interior renovations. A number of obligations and distractions caused our renovations to get a slow start. This included the purchase of a boat, dock and lift. Surprisingly, these didn't really slow us down that much. We did install a pine tongue and groove ceiling and laminate flooring upstairs.
2012 was the year of the big transformation. It is no longer the cottage ... it is home. Our home in Edwards was rented out for about a year-and-a-half and is now on the market. Pillar Point is now home.