Electric Bass Guitars

2014 Gibson EB Bass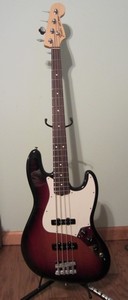 2013 Fender American Jazz Bass
Past Basses
The fact that I've played guitar since I was a teenager is not an indicator of my ability. I make no pretense about being good. I call myself a "campfire guitarist". I play for my own enjoyment and my primary goal is to have fun with it.

My first guitar was a violin shaped electric bass. I have no idea what brand it was, nor do I have any pictures of it, but I know it wasn't a Hofner! Paul McCartney played a Hofner violin shaped bass when he played with the Beatles and I have always loved that style.

I soon learned that I wasn't going to do much solo stuff with a bass, so I traded it for an arch-top, semi hollow body electric 6 string. Again, no pictures and no memory of brand, but I had fun "jamming" with friends.

When I went away to college, I was introduced to the acoustic guitar. I realized that my style of play at that time was more suited to this type of guitar and traded my electric for a Greco acoustic 6 string. After graduation, I acquired a 12 string Harmony guitar and decided I wanted a little better 6 string so I bought a Yamaha FG-360.

My guitar playing took a back seat to many other activities, such as raising a family, a career and life in general. From the late 70's basically through 2002, I only played a couple of times a year.

In the fall of 2001, as I was recovering from some fairly serious surgery, I had time to reflect on a few things. Kicking around the house for a few weeks, I had time to spend with my piano and guitars. I soon realized I wanted something a little better, so in November 2002, I purchased a Martin J12-16GT 12 string. Shortly after that, I sold both the Greco and the Harmony. Sometime in 2004, I started to participate in a couple of jam groups. There were plenty of rhythm and lead guitars but never seemed to be a bass. Sometimes, life has a tendency of coming around full-circle. I felt that I could offer more on bass, so in January 2005, I bought a Peavey Grind 4 bass guitar. A couple of months later, I purchased a Martin DC-16RGTEP. Then Hofner introduced a lesser expensive violin-shaped model, the Hofner Icon-B bass. I had to have one so on November 16, 2006, I ordered it. Apparently there was a lot of demand for this model because it was back-ordered until July 2007. The case never arrived until the spring of 2008, something like 16 months after the original order! It is very light and does play and sound quite nice.

I had it in my head for quite a while that I'd like to try an upright string bass. On Mother's Day weekend 2009, we were in Albany, New York for Miranda's graduation from Albany College of Pharmacy. I happened to stroll into a music store in a mall there and saw a Dean Pace Bass. It wasn't exactly an upright bass but it was close. I knew I had to buy it. I owned it for a little over two years and traded it to a friend for a Cremona half-size upright. Although my intentions were there, after owning this a little over 2-1/2 years, I realized I wasn't using it so it was time to streamline. I sold it in 2014. I also owned a 1987 Fender Strat American for a few years, but since it got to the point where I rarely played it, I got rid of that.

I play regularly now. I am more or less the spokesperson for Ham Jam. From 2008 until 2014, we played on Tuesday evenings between March and December in the community room of the Dexter Fire Hall . We have lost that venue for a while and are playing at the Brownville Fire Hall this year. I'm not much better than I ever was, but I'm having more fun than ever. My primary function here is with the bass guitar, but I regularly take one of my acoustics along because Marcia and I have been singing a number of duets together. I also get up to De Kalb Junction for their Thursday night jam whenever it is possible. Marcia's cousin Dan Cole organizes that one. When we are in Florida, I participate in several different sessions there.

I have been changing my arsenal somewhat lately. With the sale of my Peavey and upright basses, I have invested in some higher end equipment. My Fender American Special Jazz Bass arrived on December 13, 2013 and April 29, 2014 saw the delivery of a Gibson 2014 EB Special Bass. My latest acquisition is another Yamaha FG-360.

I also own a couple of amps and two PA systems. I have a Behringer, 20 channel, 1600 Watt system that we use at Ham Jam. This is complete with speakers, monitors and multiple speaker and mic stands and mics. I also have a 200 Watt, 6 channel Carvin system. I have this set up in our music room with a Tascam 2488neo, 24-track digital recording studio and our Karaoke system.
Acoustic Guitars

12 String Guitar

Past Guitars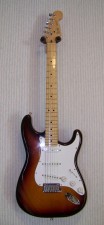 1987 Fender Strat